While working as a corporate writer and video producer in the early 1990s, Angela began teaching group fitness classes. She loved motivating people to move their bodies and sweat and stretch their way to a healthier life.
In 1998, Angela took her first yoga class in hopes of bringing more calm and balance to her hectic work and family life. Through breath and movement, yoga helped her peel away layers of tension, fear and negative self-talk.  As she let go of unhealthy thought patterns, she discovered an incredible sense of freedom and peacefulness that permeated every ounce of her being. As she continued to practice, she also began to develop a stronger, more flexible body and calmer mind. She felt compelled to share this transformative gift of yoga with others.
In 2010, she became a certified yoga teacher and began adding yoga to her lineup of fitness classes. Through the years, Angela has taught a wide range of yoga classes including:
Gentle Yoga  – Emphasis on range of movement and standing balancing poses
Ashtanga-Style Power Yoga and Hot Yoga Flow  – To build strength, stamina and flexibility
Yoga Basics – Focus on alignment and fundamental postures
Yin Yoga – Deeply held postures that target the body's connectives tissues for increased flexibility and mental strength
Restorative Yoga – Supportive and relaxing postures with the use of props
Chair yoga  and Silver Sneakers® Yoga  – Designed for active older adults
Yoga Nidra  – Deeply meditative and healing form of yoga practiced while lying down
Angela is a 500-hour certified yoga teacher, plus a certified group fitness instructor through the American Council on Exercise. 
---
Angela's  life purpose is to share the life-changing gift of yoga with everyone she meets. She believes yoga is not just something you do when you roll out your yoga mat – it's a way of life.
---
Benefits Your Friends and Family Will Notice
Here are just a few of the benefits you may discover with a regular yoga practice:
Greater flexibility, strength, balance and stamina
Better posture and reduced tension in the body
Calmer, more open mind
Less reactive and prone to anger
Better concentration
More restful sleep
More mindfulness in all areas of your life:

Eating more slowly and less likely to binge on junk food
Listening more attentively when you are engaged in a conversation

Overall sense of wellbeing and gratitude for all you have
Peeling Away the Layers of Stress and Negativity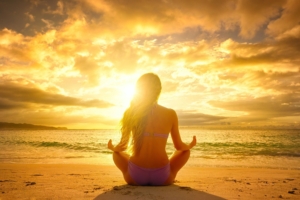 When you open up tight, constricted muscles in the physical body, it translates into a calmer, more open mind. Using the power of the breath, yoga helps you stay fully anchored in the present moment, instead of drifting into the past or fretting about the future. This present moment awareness deepens your connections to the people and world around you, so you can show up and give your best every day — at home, at work and everywhere you go.
Yoga helps us uncover our true nature of peace and love that is an innate part of every human being. But sometimes we lose a sense of who we really are when we become overwhelmed and battered by all the demands and stressors that life  piles on top of us. Through yoga, Angela guides her students to release  tension and worries on a physical and emotional level, so they can experience life fully and be their authentic self – no matter how turbulent or unpredictable life becomes.
Angela's personal yoga practice helps her balance the demands of being a teacher, freelance writer, wife and mother of two.